Cyclist who broke nose when knocked off bike punched driver
James Davidson swore at Diane McKain before punching her in the head after she accidentally knocked him off his bike.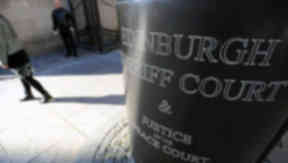 A cyclist who broke his nose when he was knocked off his bike punched the motorist responsible when she went to see how he was.
James Davidson, 38, was hit as he cycled along an Edinburgh road in May last year. When the driver went to help, he swore at her before hitting her in the head.
Davidson, from Broxburn, West Lothian, previously pleaded guilty to assaulting Diane McKain to her severe injury and permanent impairment on May 24, 2011.
At Edinburgh Sheriff Court on Wednesday, he was ordered to carry out 270 hours of community service.
Fiscal Depute, Michelle Young, said Ms McKain was driving home along Glasgow Road in Edinburgh after work.
She had just passed the Gogar roundabout on the A8 when Davidson cycled through an underpass into the fast lane next to her. He then moved in front of her red Golf.
The fiscal said: "The accused turned around and started swearing at Ms McKain with hand gestures and shouting."
Ms McKain drove round the cyclist and heard a bump as she drove past. She looked in her rear view mirror and saw he had fallen to the ground.
The fiscal said Ms McKain claimed she had not deliberately hit Davidson but other witnesses said the car swerved towards him.
Realising she might have hit him, Ms McKain pulled over and went to see how he was.
Davidson walked up to the motorist and continued to swear at her, insisting that he had had the right of way. He then struck her on the right side of her head.
Ms McKain felt dazed and had an immediate sensation of loss of hearing. She was later found to have a perforated eardrum and mild hearing loss.
Davidson picked up his bicycle and cycled off.
Davidson's defence solicitor, Robbie Burnett, told Sheriff Neil Mackinnon that his client had received injuries himself, including a broken nose, when he was knocked off his bicycle.
He said: "Clearly he was provoked in this situation and made the mistake of engaging with the complainer instead of contacting the police. This was a momentary loss of control, but understandable in the circumstances.
"The difficulty I have and Mr Davidson has, is the fact that the complainer has not been prosecuted in any way. Quite clearly what happened was either assault or dangerous driving."
Mr Burnett said other witnesses saw the cyclist come out the underpass and indicate before joining traffic. They claimed the car had not let Davidson in at first and when they did, they "deliberately swerved and knocked the cyclist off his bike".
The lawyer said another witness claimed: "The red Golf did not slow down. She honked her horn and the cyclist turned round. The red Golf swerved to the left for no apparent reason and knocked the cyclist off his bike. He came tumbling off onto the road."
However, Sheriff Neil Mackinnon said the Ms McKain had stopped her vehicle after the incident and it was accepted that knocking the cyclist off his bike had not been deliberate.
He told Davidson there was no excuse for his behaviour.