Prisoner may have died from rare epileptic seizure
Richard McGhie, 41, died in Addiewell Prison one month into a three-month term for assault.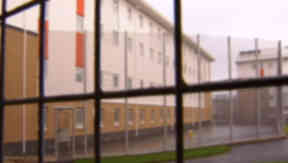 An epileptic prisoner who died in his cell may have suffered a rare type of fatal seizure, a court has been told.
Richard McGhie, 41, was found dead in Addiewell Prison in West Lothian in November 2010, less than a month after beginning a three-month jail term for assault.
A fatal accident inquiry heard that the private prison's record keeping was "haphazard" and noted that it had failed to make clear notes of what drugs were dispensed to inmates.
Dr Richard Leitch said it was difficult to establish if Mr McGhie had been given the medication he needed, but added that he could not fault the care he received while in the jail.
Dr Leitch also dismissed a suggestion that the prison should introduce movement alarms for epileptic prisoners, as they would trigger too many false alarms.
The consultant neurologist said he was unable to identify whether Mr McGhie suffered a cardiac arrest, abnormal heart rhythms or some kind of fit.
He may also have succumbed to a severe epileptic seizure which proves fatal for around one in 100 people with the condition, Dr Leitch said.
Mr McGhie was found lying with his chin on the bed and his feet on the floor in the prison's E Wing at 2.10 in the afternoon of November 15, 2010.
Although he had two broken ribs and a fractured chest bone, these injuries were put down to attempts to revive him.
Dr Leitch said: "What the medical evidence shows us is people who suffer from epilepsy are at risk of dying suddenly.
"We're not sure at the moment exactly what causes this death but I was left with the diagnosis that it was death related to epilepsy."
Sheriff Graeme Fleming QC offered the court's condolences to Mr McGhie's mother, who listened to the evidence with other family members.
Sheriff Fleming will deliver his findings later.