53-metre giant wheel to be erected at Princes Street Gardens
The 53-metre high structure will generate £50,000 for the council over the next six months.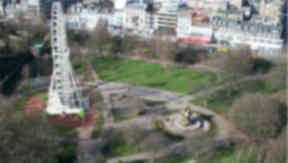 City officials have approved plans for a "ridiculous" giant wheel to be placed in the heart of Edinburgh for six months despite objections.
The 53-metre high structure will generate £50,000 for the City of Edinburgh Council for the six month land rental of West Princes Street Gardens and is hoped to boost the local economy through increased footfall.
The observation wheel will have 42 pods which will include a seven-minute commentary which will point out local landmarks.
It is understood that the wheel will create 15 jobs and is expected to attract 1000 visitors per day.
For each adult ticket priced at £8.50, 50p will be invested locally. Half of the fund will pay for marketing of the west end businesses and the rest will go towards helping young people find employment via the Edinburgh Guarantee project.
Deputy council leader Steve Cardownie said: "We want to encourage people to shop in the west end which has taken a hammering because of the tram works."
"We want to bring world class attractions to the city that visitors and people who live here will enjoy.
"I don't think we have to sacrifice much as it won't have a huge impact on the city as it is only temporary.
"I wouldn't rule out doing anything. I remember when there were objections to the ferris wheel being put next to the Scott Monument and now it is an accepted feature that many people visit".
He added: "We live in a beautiful city but we also live in the 21st century."
Not everyone agreed that the financial benefits out-weigh the negative aspects such as the impact on Key Views in the capital.
Marion Williams, director of The Cockburn Association branded the plans as "ridiculous".
She said: "We are very disappointed with the decision. It will be in a place where people go to rest. The whole point of the gardens is that they are a quiet and tranquil space, this goes against all planning policy."
Concern was also raised by organisations such as Historic Scotland who run Edinburgh Castle as well as Edinburgh World Heritage Trust.
There was also a call from Councillor Eric Milligan to have the wheel placed in Leith but his suggestion and the objections were dismissed.
The wheel is expected to be erected in the next couple of weeks following the decision of the Planning Committee on Wednesday and will stay there until October.