Police officer on trial for using files to vet one of his wife's tenants
Harry To is accused of accessing Fife Constabulary's computer files without authority.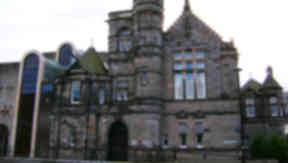 A police officer has gone on trial accused of using a police station computer to vet one of his wife's tenants.
Harry To, a constable with Fife Constabulary, is said to have accessed the force's "Crimefile" computerised recording system without authority on seven occasions.
It is said he obtained personal information about private tenant Kevin Stevens. It is also claimed he used it three more times to check out both Mr Stevens and his sister Erin.
It is also claimed To, 42, obtained the personal information of a relative, named in charges as Fong Yaut To, also without authority.
Mr Stevens, 22, gave evidence at Kirkcaldy Sheriff Court on Monday. He told the court he rented a flat in Glenrothes, Fife, from To's wife Pauline.
Mr Stevens said when he and his girlfriend Lauren Watson, 23, went to sign the tenancy documents, Mrs To told him that she knew about his past.
He said: "She told me she knew about me that everyone deserves a second chance and that was why she was letting me sign the lease."
He said he assumed she was talking about past difficulties with tenancies but started to wonder if it could have been his criminal record when he saw To in his uniform.
Mr Stevens said he had convictions for breach of the peace, breach of probation, a Telecommunications Act offence and shoplifting.
Police Sergeant David Hays, 41, To's line manager, described the officer as "the best low-level crime detective for the area".
He said To was part of a community police team working in the Templeton area of Kirkcaldy.
Brian Robertson, prosecuting, asked why To might be "repeatedly looking at the crime file" of someone based in another part of the force area.
Mr Hays said: "You would only look at Glenrothes if it was someone from our area who had done a crime in Glenrothes. There is no reason whatsoever for someone [at Kirkcaldy Police Station] to be repeatedly looking at crime files for Glenrothes."
To, from Glenrothes, denies 11 charges under the Data Protection Act of accessing the "Crimefile" computer system at Kirkcaldy Police Station, St Brycedale Avenue, Kirkcaldy, without the consent of the data controller, between October 1 and November 16 2009 and obtaining personal information without authority.
Steven Gleeson, defending, said if To did access Mr Stevens's files he did so because he suspected he could have been involved in the supply of drugs.
The trial, before Sheriff James Williamson, will continues.