Cyclists in mass rally to campaign for more investment and safer roads
Minister defends transport budgets as hundreds of cyclists prepare for parliamentary protest.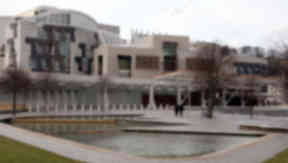 Transport minister Keith Brown has defended the government's transport policies as hundreds of cyclists protested at Holyrood.
Organisers behind the Pedal on Parliament campaign complain that the present budget for investment in cycle routes is "wholly inadequate".
In an eight-point manifesto, the group says "proper" funding, more appropriate routes and slower traffic speeds are needed if the Scottish Government is to meet its target of achieving 10% of journeys by bike by 2020.
Mr Brown said he backed the group's calls to make Scotland a "cycle-friendly nation".
He said: "Pedal on Parliament has bold ambitions and this Government shares that ambition to make Scotland a cycle-friendly nation.
"Back in January, I addressed the cyclists who attended the Stop Climate Chaos rally at St Andrew's House in Edinburgh when I gave a commitment to listen and do more to help."
He said there has been "considerable progress" and investment in cycling infrastructure across the country.
More than £20m will be spent to support "active travel", which includes cycling, over the next three financial years.
Mr Brown said the government is working with the City of Edinburgh Council to pilot and assess 20mph zones in residential areas.
The government aims to reduce by 30% the number of people killed on the roads by 2015.
He added: "Getting the next generation on board is pivotal.
"We have agreed a 40% target for on-road cycle training with Cycling Scotland and have given our support to every child or young person having the opportunity to saddle up."
Pedal on Parliament began at 2pm at the Meadows before moving to Holyrood where hundreds of cyclists converged on the parliamentary building.
Labour MSP Richard Baker said: "We all share the desire to get more people cycling in Scotland, but it has to backed up with word as well as deed. The reality is that disproportionate cuts to the cycling budget are hitting plans and cycling networks across Scotland."
FROM STV LOCAL