Lewis chessmen may have been from different game
A new paper suggests the 12th and 13th century ivory sculptures may have been used to play an ancient Scandinavian game.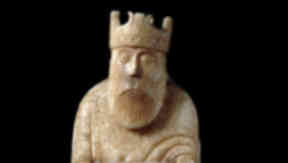 Some of the Lewis Chessmen may not have been chessmen at all according to new research.
The 12th and 13th century gaming pieces which were discovered in Uig on the Isle of Lewis in 1831 are considered to be Scotland's most renowned archaeological find.
The paper by David Caldwell, Mark Hall and Caroline Wilkinson suggests a number of the 93 ivory pieces may have been used in a game called hnefatafl – an ancient Viking board game that pre-dates chess.
Hnefatafl is similar to chess in that it involves protecting a king from opponent pieces.
The research also disputes the theory that the pieces belonged to a merchant and were left behind on the island.
Instead the research suggests the set was more likely to be the prized possession of a local prince, nobleman or senior churchman.
Dr Caldwell et al agree that the pieces are likely to have originated from an important Scandinavian centre – most likely Trondheim, Norway.
They concluded that while most of the items were likely to have been crafted in the same workshop, up to five different craftsmen of differing ability may have created them.
All but 11 of the chessmen are housed in the British Museum. The rest are held in the National Museums Scotland in Edinburgh and next year will go on tour around the country.
The paper concludes by suggesting that more information should be gathered from further detailed study of the constituents of the hoard, including chemical analysis of the ivory.
It also promotes a fieldwork project to pinpoint the exact area where the pieces were discovered.