Harry Potter train station set for facelift
Glenfinnan Station in the West Highlands features as part of the Hogwarts Express Line in two of the wizard's Holywood blockbuster films.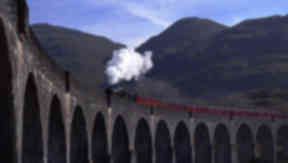 A scenic Highland train station that doubles as part of the Hogwarts Express line in the Harry Potter films is to receive a near £200,000 facelift.
The Glenfinnan Station Museum lies across from the iconic Glenfinnan viaduct in the West Highlands.
The station features in Hollywood blockbusters Harry Potter and the Chamber of Secrets and Harry Potter and the Prisoner of Azkaban.
A grant of £195,000 has been awarded to the station from the Heritage Lottery Fund.
The money will be used to allow the museum to recreate the days of steam powered railway.
The main buildings will be restored and repaired and will display many original artefacts, which are currently in storage because of the buildings' poor conditions.
The collection includes pieces of station furniture, trolleys and an original dining car and sleeper carriage as well as photographs and memorabilia.
The funding will also help upgrade the footpath between the Station and the 100ft high Glenfinnan Viaduct and its 21 arches that span the valley.
Dubbed 'Concrete Bob' following its construction in 1900 by Robert McAlpine, Glenfinnan Station was a busy freight and passenger line as part of the West Highland Line extension from Fort William to Mallaig.
Eight scheduled services continue to run through the station everyday.
Colin McLean, Head of the Heritage Lottery Fund, said: "We are thrilled to be able to help breathe new life into this gem of a museum. Its fascinating artefacts provide a wealth of educational opportunities for people of all ages as they delve into the history of the railway, of industrialisation and how it shaped the lives of our ancestors.
"The rarity of a station like this, complete with so many original features in such a stunning natural setting is a gift to Scotland's tourist industry and one we should treasure and enjoy."