UK's only polar bear enjoys snowfall
Mercedes the polar bear played happily in the snow at her new enclosure at the Highland Wildlife Park near Kingussie.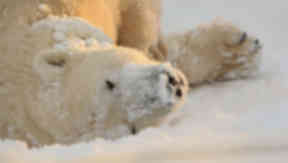 The UK's only polar bear has received a reminder of her former Arctic surroundings when heavy snow fall turned her Highland home into a winter wonderland.
Whilst heavy snowfall caused traffic chaos across the north of Scotland on Sunday, 27-year-old Mercedes was enjoying her first sight of the white stuff since her move north.
Staff watched said she appeared to be delighted to frolic in the deep snow, constantly burying her head and rolling about.
Mercedes was relocated from Edinburgh Zoo to the Highland Wildlife Park in Kincraig, near Kingussie, in October, where the climate is more to her taste.
The massive polar bear was rescued from her native Canada several years ago where she was going to be shot after starting to roam into a nearby town in search of food.
However, her fun and games in the snow were only witnessed by a few lucky staff as the weather forced the wildlife park to shut.
One staff member said: "She has really taken to the place from day one, but it is great to see herself enjoying conditions she is more used to."
Her new enclosure extends over four acres of land regarded as more typical of the natural habitat of polar bears.
A public appeal helped to raise £75,000 needed to fund her transfer and the Army assisted in building the bear's home and a nearby visitors' car park.
The heavy snowfall, which has seen more than six inches in some remote parts of the Highlands, and much more in the mountains, resulted in a warning from police to motorists not to venture out.