Is the Loch Ness Monster dead?
Fears are being raised for the famous creature following a lack of 'credible' sightings during the past year.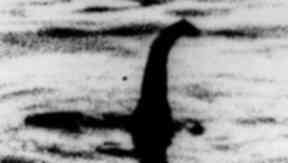 The Loch Ness Monster may be dead, according to a leading Nessie enthusiast.
Gary Campbell, president of the Official Loch Ness Monster Fan Club, said only one sighting - made just off the Clansman Hotel on June 6 last year - was judged in his opinion to have been the only 'credible' report of the monster in 2009.
Mr Campbell stated such reports are increasingly rare. He added: "That's why we're so relieved to have heard about this sighting. In June, when it was reported, nobody had seen anything for a year. If it hadn't been for that one, we would have been really, really worried. There is an embarrassment factor to seeing Nessie. The first thing people say to you is, 'Had you had a drink?'"
The Nessie enthusiast added: "Ten years ago we had a lot of good sightings, but in the last two or three years, they have tailed off. What we regard as a dependable sighting is very much down to the person who sees it.
"This was a local chap who knows the things that Nessie isn't - boat wakes, debris on the loch or seals in the summer. A local person will know what these things look like."
A recent documentary Death at Loch Ness also suggested that the monster might be dead.
To prove this theory wrong, Mr Campbell hopes new witnesses might come forward. He added: "If people start to believe this, it might start to affect tourist numbers. Whether you believe in Nessie or not, the Loch Ness Monster is one of the most important tourist attractions we have."
The possible demise of our beloved monster follows the death of a man whose research became synonymous with Nessie.
American scientist Robert Rines, whose development of ultrasound and image scanning helped discover the wrecks of the Titanic and the Bismarck, passed away aged 87 last November. He was of one of the foremost Nessie investigators of the last century.
Gary, meanwhile, is one current enthusiast who is keeping his hopes up. He concluded: "Perhaps, though, the answers are to be found underwater instead of on the Loch's surface. Maybe Nessie is just keeping her head down."