Climber rescued as helicopter hovers in gully
EXCLUSIVE VIDEO: Dramatic scenes after man falls while walking with friends.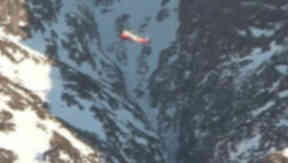 A climber trapped down a narrow gully in Glencoe has been rescued in a dramatic Navy mission.
A helicopter pilot flew down the gully and hovered near to its cliffs for more than 20 minutes whie the man was brought out.
The man had a head injury after falling into the high cleft from a steep, icy face. He had been walking on Dinnertime Buttress, Aonach Dubh, with friends when he slipped and fell 25ft into No 2 Gully.
One of his friends alerted Glencoe mountain rescue teams by mobile phone straight after the fall, on Wednesday. Support was called in and the Navy Sea King helicopter from HMS Gannet at Prestwick carried out the rescue.
Its pilot hovered in the gully while the winchman and others secured the man and raised him safely to the aircraft.
Glencoe Mountain Rescue leader John Grieve praised the pilot's daring. He told STV News: "The helicopter carried out a great job, flying right inside the gully to lift the chap out. It was a great job from the Navy."
The climber's injuries were not believed to be life threatening. He was flown to the Belford Hospital in Fort William.