Energy companies in wind farm takeover talks
The £200m, 118MW scheme in South Lochs on the Isle of Lewis was given the go-ahead by the Scottish Government in January.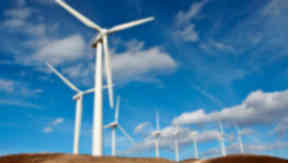 A number of giant energy companies are in talks to take over a proposed £200million giant wind farm on Lewis.
The 118 megawatt (MW) scheme received planning permission from the Scottish Government in January.
Nick Oppenheim, who owns the right to build 33 massive turbines on his private moorland estate in South Lochs, hopes to sell or set up a partnership for the wind farm by this summer.
Mr Oppenheim explained that he may retain an interest in the project under a partnership deal or completely sell the development.
As part of the deal four rent-free sites are handed to the community to build their own turbines and villagers would receive 1.5% of the annual revenues from the main wind farm.
Mr Oppenheim said he required a very wealthy energy developer with the expertise to build and operate such a large scale wind farm.
He would not be drawn on the suitors but said: "I need to bring in a company with deep pockets, a couple of hundred million pounds and previous experience of building one of these."
He stressed: "I am categorically, absolutely, not selling the estate. I have no thoughts on selling the (actual) estate. I expect it to go to my children."
Mr Oppenheim added that he may completely sell off the area of the site involved with the turbine development or he may retain an interest under a partnership deal.
He added that the deal to direct around £1million of the revenue from the windfarm to the community and the council would be honoured by any incoming buyer.
Peter Carlin of council-led Western Isles-wide development trust (WIDT) said: "It is essential that we now see the project moving rapidly to construction and implementation.
"From my perspective it is positive that the previously negotiated benefit is secure and that the community will receive an early benefit from potentially significant capital receipts.
"Going forward, WIDT will continue to engage with all developers in the islands to discuss benefit potential and find ways to maximise the benefits coming to our communities."