Walkers rescued from Harris mountain
Coastguard teams called in after two became lost in bad weather.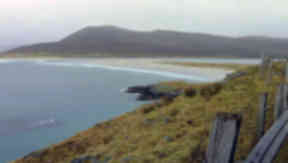 Two walkers have been airlifted off the highest mountain in the Western Isles after getting lost in bad weather.
The men, aged 24 and 27, were found by Stornoway Coastguard after they became lost while climbing 2621ft-high Chisham on the Isle of Harris. One of the walkers had a sprained ankle.
The pair got lost in poor visibility and used a mobile phone to call for help just after 3pm on Friday.
Five coastguard teams and police were also involved in the search. A gap in the cloud allowed the helicopter to reach the men and airlift them off the mountain to the car park below.
"They were in contact with us by mobile phone but unfortunately the visibility was such that they could not be easily located at first," said a spokesman for Stornoway Coastguard.
"They had taken three hours to get up the mountain and got lost as the weather closed in."