Rescued sea eagle released back into wild
The injured bird was picked up by a French yacht and nursed back to health on Lewis.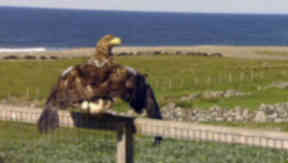 An injured sea eagle which was rescued from an isolated sea loch in the Western Isles has been released back into the wild.
The white-tailed sea eagle, Britain's biggest bird of prey, was saved by a yacht crew after it was found injured and exhausted near Loch Bhrolluim off Harris.
It took all four of the French crew to restrain the giant raptor with masking tape, before it was taken into the care of the RSPB.
A tag on the bird has shown it is a three-year-old female born on the Uists.
She was fed raw liver and meat over the weekend until she was fit enough to be freed on Monday eveningon the west side of Lewis.
Western Isles RSPB officer Martin Scott had her checked out by the Stornoway vet Hector Low. The only other alternative was to keep her in captivity.
Mr Scott said: "The sailors radioed in to the coastguards who were surprised to hear they had caught an eagle.
"She has some lung damage and was breathing very heavily with respiratory problems.
"But she has fed well over the weekend and seems in good nick. Rather than transporting her to an aviary we wanted to try and release her here."
"It's good to see her making a recovery because her loss would have been significant for the sea eagle population. There are only about 40 pairs in Scotland."
Mr Scott praised the yachtsmen for rescuing the bird which could have given them a nasty injury with its sharp claws.