Daughter's horror as mother breaks neck in horse fall
Depute head teacher Caroline Johnston fell from her horse and died as her daughter Kim watched on helpless.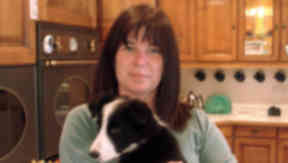 A 21-year-old daughter watched helpless in horror as her mum was thrown from a horse and broke her neck.
Caroline Johnston, 46, a primary school depute head teacher, died from her injuries after the tragedy on a remote country road near her home in the Highlands on Monday.
Her daughter Kim, who is hoping to become a veterinary nurse, witnessed the horrific accident as they were out riding together.
The devastated 21-year-old and her brother Drew, 23, last night paid tribute to their animal-loving mother, the deputy head at the 438-pupil Rosebank Primary School in Nairn.
Drew, a personal sports trainer, said: "She was a well respected teacher and gave 110% at school and at home.
"She was dedicated to her work and took particular pleasure in coordinating and attending the school's Loch Insh trip.
"She even set up and co-ran an extra-curricular walking club for children at Rosebank, among many other things.
"She influenced and touched a great many lives over the years, and though she will be sorely missed she leaves us with an abundance of extremely fond memories. That is her legacy."
He said the family were too upset to speak about the details of the tragedy. Drew, who works for DW Sports Fitness, added: "She was a loving mother and a true friend. We, her family, are shocked and upset. "At this point it's hard to conceive the full impact of her loss and it's really difficult to think about all of the things she won't be there for now."
The mum and daughter, who is hoping to start a veterinary nursing course at Napier University in Edinburgh next month, went out riding together on Monday near their home at Regoul, near Cawdor Castle in Nairnshire. They were on a single track road at Gollanfield, near to Inverness Airport, when the accident happened.
She was rushed to Raigmore Hospital in Inverness, about 10 miles away, where she was pronounced dead.
The teacher was originally from Glasgow but lived 25 years in rural Nairnshire.