Normandy landings' Highland Piper laid to rest
Bill Millin, known as Piper Bill, played his bagpipes on the beaches of Normandy on D-Day.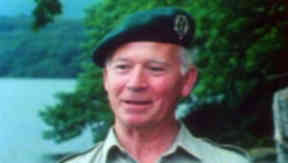 The Highland piper who played during the Normandy landings is to be laid to rest.
Bill Millin, known as Piper Bill, bravely led troops into battle on D-Day armed only with his bagpipes.
His tune brought hope to thousands of young troops in one of the darkest moments of the Second World War.
Private Millin was just 21 years old when he landed on Sword Beach on June 6, 1944 with 1st Commando Brigade as 150,000 soldiers took part in an epic operation that was to mark the beginning of the end of the conflict.
A photograph shows him preparing to leap from his landing craft while in the waters in front of him hundreds of other troops waded towards the German guns.
Speaking in the Grampian TV production Commandon in 1983, Millin recalled the moment.
"I remember leaping off the landing craft behind Lord Lovat. Lovat being a much taller man than I, the water came just above his knees. Of course when I jumped in, I possibly fell into a hole, it came up above my waist and I had a terrible struggle keeping upright with the bag pipes over my head," he said.
"Finally I got them going and I played Hielan' Laddie until I reached the sand and then up and down the sand playing The Road to the Isles."
Normally pipers were required to remain behind the advancing troops but Lord Luvat ordered Bill to play as he lead the troops through a hail of German bullets. Under heavy fire he carried on playing and was unscathed as all around him his comrades fell.
"I got several comments, 'you mad b***|ard' but others cheered. I played the bagpipes many times during D-Day", he said.
He added: "Several years ago I met the German officer commanding that area during the landings and a reporter asked him why didn't they shoot the piper when he was upfront all the time and the German said they thought I was mad. Well I was very they thought I was mad because everyone else seemed to be getting shot and wounded and being a bagpiper probably saved me."
The remarkable actions of Millin and his fellow pipers were re-enacted in the 1962 Sean Connery film The Longest Day in which he was portrayed by the Queen Mother's Piper Pipe Major Leslie de Laspee.
Private Millin spent his final years at a nursing home in Torbay, Devon where he died on August 17, aged 88.
The bagpipes he played on Sword Beach are now displayed at Dawlish museum where he donated them along with his kilt, beret and dirk prior to the 60th anniversary of the D-Day Landings in 2004.