Computer hacker controlled victims' webcams from mother's front room
Matthew Anderson, of Keith in Banffshire, also gained access to medical reports and photos as part of an email scam.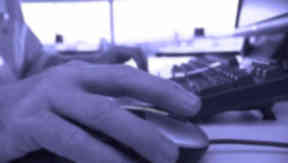 A computer hacker accessed highly personal data and controlled victims' webcams as part of a sophisticated email scam carried out from his mother's front room.
Matthew Anderson, 33, was a key member of an international gang, abusing his skills as a computer security expert to target businesses and individuals with spam containing hidden viruses, a court heard.
He controlled victims' webcam devices remotely to see inside their homes, at one point boasting to a friend that he made a teenage girl cry by doing so.
Files he saved on his own computer included webcam images of a girl in school uniform, a family photograph of a mother and her newborn baby in hospital and intimate pictures of a sexual nature, Southwark Crown Court in central London was told.
The father-of-five, of Keith, Banffshire, Scotland, also saved CVs, wills and confidential medical reports relating to a seven-year-old boy with autism.
Major national and international organisations, including Macmillan Publishers, the Toyota car company and the John Radcliffe Hospital in Oxford, were also targeted in what prosecutor Hugh Davies described as a "fundamental breach of security".
Mr Davies said: "The conduct involved the repeated distribution of cleverly disguised emails, measured by the million, if not tens of millions, bearing sophisticated viruses."
It is not possible to quantify the number of victims, he added.
Anderson lives in a farmhouse in a remote area of Scotland and used a computer at his mother's nearby home to compose and distribute millions of spam messages.
Part of the scam also involved him sending spam emails to create business leads for a colleague, for which he was paid £12,800 in cash.
Email addresses were selected at random from a list of 30 to 40 million.
Virus
The message victims received was seemingly innocent but when opened, infected the computer system with the virus which could not be detected for about two days.
Anderson, who used online profile names including aobuluz and warpigs, operated behind the front of Optom Security, which offered security software online.
He may have been distributing the spam emails to gain "kudos" within the hacking community, Mr Davies said.
The court heard how Anderson altered the computer of a teenage girl and accessed her webcam, telling a friend online that he took pictures of her crying.
He wrote: "Had some chick on webcam. Changed her screen about a bit n she started to cry lol then she phoned her dad haha."
Mr Davies said: "On his own hard drives he has filed, in an organised manner, a huge volume of highly-personal data secretly harvested from the computers of others.
"It is difficult to conceive of greater invasions of privacy."
Anderson, who admitted an offence under the Computer Misuse Act, will be sentenced on Tuesday.