New Nessie visitor centre plans revealed
A new Highland visitor centre worth £2.5m has been made public.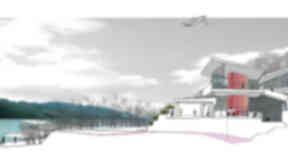 Plans for a new multi-million pound visitor centre on the shores of Loch Ness have been unveiled.
The Jacobite Discovery Project will see the creation of a new harbour and visitor facilities as local firm Jacobite Cruises looks to expand its operations.
It is hoped that it will enhance the tourist experience of Loch Ness, and monster watching, as it is designed to fit in with the Highland landscape.
The £2.5m plans will use water from the loch to heat and cool the building, using eco-friendly energy.
Robin Webster, partner at Cameron Webster who designed the centre said: "There are many eco-friendly features within the development and the location of the Discovery Project lends itself excellently to these. Low energy features are a priority.
"Water from the loch heats and cools the building through a water to air heat pump.  This uses less energy and while operated by electricity, has a substantially lower carbon footprint.
"The high level of glazing allows the building to be naturally lit, reducing the need for artificial light, and allows for maximum solar gain on the south side of the building.
"The architectural concept fits very carefully with the landscape and the natural features of the site."
Rod Michie, Director of The Jacobite Discovery Project said: "We are delighted with the progress of Cameron Webster's designs and are proud our project will be as environmentally friendly as possible.
"We are looking forward to having brand new facilities where visitors can really make the most of beautiful Loch Ness.  We want to create ever lasting memories for customers to take home, whilst still being kind to the environment."
The Highland Council is expected to consider the Jacobite Discovery Project proposal in the coming weeks.