UN to consider ownership of tiny 'Scots' isle
The United Nations is set to examine claims to the ownership of Rockall, 300 miles off Scotland's west coast.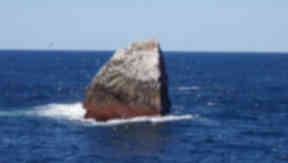 It is one of the most remote islands in the Atlantic - but it is, according to the UK Government at least, Scottish.
Now the UN is set to examine claims to the ownership of the tiny Isle of Rockall, around 300 miles off the west coast of Scotland.
The uninhabited island is just 30 metres wide, 25 metres across and rises only 19 metres above sea level.
But it is believed natural oil and gas could be found in the seabed around it, with fishing grounds also surrounding it.
Ownership has long been disputed between Britain, Ireland, Denmark and the Faroe Islands and Iceland.
The Royal Navy annexed Rockall in 1955 and the Island Of Rockall Act 1972 declared it part of the Western Isles.
Denmark and the Faroe Islands made a submission to the UN Commission on the Limits of the Continental Shelf (CLCS) early in December.
Now the UN will consider its future at the commission's meeting in New York in March.
The four nations have been involved in talks on the ownership issue for several years, with more scheduled for May.
A Foreign Office spokeswoman confirmed on Saturday: "The UK can join with the Kingdom of Denmark and reaffirm its own commitment to the quadrilateral talks between the United Kingdom, Denmark, Iceland and Ireland.
"The next round of talks is scheduled for Reykjavik in May 2011."