Willie McRae mystery: Crown Office asks for fresh information
Crown Office asks police provide information on the death of SNP politician Willie McRae, who was found dead in 1985.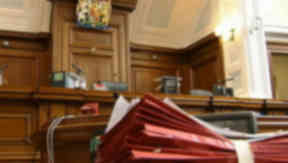 Police have been asked to provide information on aspects of the mysterious death of former SNP activist Willie McRae 26 years ago.
The Crown Office has "requested information from Northern Constabulary" in relation to new "evidence" provided by a former policeman and SNP politician.
Mr McRae, a prominent lawyer and anti-nuclear campaigner, was found dead in his crashed car on the A87 near Kintail in Wester Ross in April 1985. He was heading north from Glasgow to his holiday home in the Highlands.
His death was initially thought to be an accident - but a gunshot wound was later discovered by doctors at Aberdeen Royal Infirmary behind his right ear.
Officials said suicide was the likely cause, but many believe he was murdered. Claims that he had been under surveillance by the State were officially denied.
The new information relates to phone calls made to former policeman John Finnie, a leading Highland councilor, who is calling for police to re-open the inquiry. His contacts have made various claims which call into question the exact events before and after the discovery of Mr McRae's body.
Allegations
They include allegations that his cause of death by a bullet wound was known well before being officially declared at hospital in Aberdeen, more than 200 miles away.
It is alleged his car was removed by the police from the scene, and then returned when it transpired the death was regarded as suspicious. It is also claimed the last person to have seen Mr McRae alive, himself a former police officer, was never interviewed.
The Crown Office has now sought 'information' from Northern Constabulary in relation to the new 'evidence' provided to the Lord Advocate Elish Angiolini by former policeman Mr Finnie. In November, the SNP group leader on Highland Council called on the Lord Advocate to re-open the case.
He asked her to release any details which have so far been kept secret, in the same vein as was done following the controversial death of Government adviser Dr David Kelly. Since then, Mr Finnie has been contacted by numerous people with new 'information' they consider relevant to the case.
In letters to the Crown Office, dated December 9 and 15, he outlines this 'new evidence'. He said: "A woman, who knew Mr McRae well, advises me that she and her husband received a telephone call, from a friend advising that Mr McRae had been involved in a road accident.
"Later that evening, a further call was received, from an unknown young male caller, advising that Mr McRae had been shot. I am told this second contact was made before Mr McRae was taken to Aberdeen (when the gun wound was officially noted) and that the couple's concerns about the chronology of events were shared with Dingwall police. However, they were never interviewed."
Mr Finnnie said another male caller, who knew Mr McRae well, claimed he had departed from a long-standing routine by travelling unaccompanied. It was apparently well known that he usually had a companion on his journeys north.
And, following information from another male caller, it is claimed the last person to have seen Mr McRae alive, a former policeman - was not interviewed.
Mr Finnie said: "I consider that in any enquiry into the suspicious death of an individual it is important for the police to interview the last person known to have seen the deceased alive.
"I am told that, in Mr McRae's case, that person was a serving Strathclyde Police Officer who has never been interviewed. That now former police officer has told me that he was informed by a named supervisory officer that Mr McRae was under surveillance by Special Branch."
Mr Finnie has also been told by another informant that Mr McRae's car was removed from the scene, but, when the gunshot wound was found the officer in charge instructed it to be returned to the crash spot off the A87 and photographed. And an anonymous caller also claimed that before Mr McRae's death his office in Bath Street, Glasgow, was broken into.
The new information also includes details from a close friend of Mr McRae that his arrival at his holiday home was very much anticipated with him saying before setting off from Glasgow "get the fire on".
The letter to Mr Finnie from the Crown Office states: "To assist in considering all the issues raised, I have requested information from Northern Constabulary."
It added that it may take some time to "analyse" this information. Mr Finnie said he was delighted with the development.
"I know many people concerned about the case will be pleased this reasonable request for information has been treated seriously. The further information I have been given I consider to be relevant to the tragic death of Mr McRae.
"I am particularly concerned the last person to see Mr McRae alive has not been seen by the police. If you are dealing with an apparent suicide surely you need to get their whole background.
He added: "The loss of any life is a tragedy, a loss which, after a quarter of a century, still stirs such strong feelings which is clear proof, if any were needed, that the public are not satisfied by the investigation and the subsequent official silence on many aspects.
"The circumstances of Willie McRae's death, and the subsequent investigation, have led to a quarter of a century of speculation and public disquiet."
Mystery
The case has consistently been surrounded by controversy. The gun was recovered some distance from where the car was found and there were no fingerprints. Mr McRae, when found, had not been wearing gloves.
The location of the gun raised questions as to how someone committing suicide could throw the weapon so far from the vehicle. Papers and a broken watch were also found some distance from the car. No fatal accident inquiry was held.
Several years ago another former police officer, Iain Fraser, who worked as a private investigator after leaving the police, claimed he was asked by a mystery client to spy on Mr McRae just three weeks before he died.
Mr Fraser, said he was paid £135 by the caller to watch Mr McRae. He said: "I had no idea who the client was, but in the murky world of private investigation that was not unusual.
"The cheque came from Newcastle. I can't remember the individual who signed it, I wished I had kept a copy now, but I had no idea at that time this was going to rear its head again."
Mr McRae was a prominent Scottish lawyer, who had fought and won many cases, including some opposing the government.
As an SNP activist, he'd held national office as vice-chairman of the party. He also held a radical anti-nuclear stance. On Friday, April 5, 1985, he left his Glasgow office to head north to his weekend home in Kintail.
It has been claimed he said to his office staff before departing: "I've got them!" but gave no further explanation.
His Volvo car was spotted by Australian tourists the following morning at an isolated spot on the A87. Mr McRae was slumped unconscious in the driver's seat covered in blood.
Initially only one policeman attended the scene, and the subsequent investigation has been criticised by some as being inadequate. When Mr McRae arrived at hospital it was discovered he had a gunshot wound to his head. He died at 3am on April 7, 1985, at least 36 hours after being injured.
A Northern Constabulary spokesman said: "We have received communication from the Crown Office and Procurator Fiscal Service in relation to this incident."
A Crown Office spokesman said: "Mr Finnie was advised that COPFS had requested information currently held by Northern Constabulary to assist in dealing with the issues raised by Mr Finnie. The information requested has been received and is currently being considered. "