Islanders disappointed as national park status rejected
Residents of Harris will not call their island a national park as the Scottish Government rejected the plans.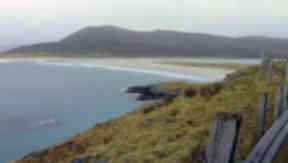 Islanders on Harris are disappointed with the news that the Scottish Government has refused to press ahead with plans for a national park.
In a letter to the North Harris Trust, Environment Minister Roseanna Cunningham said she did not back the formal process at the moment.
Two years ago the islanders voted overwhelmingly in favour of national park status. The island has long struggled with depopulation. Following the Second World War Harris lost 40% of its residents and recent decades have seen an even further decline.
The recently formed North Harris Trust hoped making the area Scotland's third national park would breathe new life into the community.
A study group was set up to evaluate the idea and it concluded that up to 90 jobs would be created by the move. But Western Isles Council voted against the plans.
Calum Mackay, of the North Harris Trust, said: "We're seen as being a good way of addressing many of the issues which are facing Harris at the moment, and indeed which are facing many parts of the Western Isles at the moment. Issues such as a lack of employment opportunities, declining population, lack of young people in our communities.
"A feasibility study was conducted by independent advisors and they concluded that the national park idea was a very sound one."
In a letter to the North Harris Trust, Ms Cunningham said she did not support the formal process, citing the lack of support from the council.
A Scottish Government spokeswoman said: "Ministers have stated that they would not wish to consider a case for National Park status for Harris without the full support of Comhairle nan Eilean Siar.
"Unfortunately, the council considers that, at this stage, a convincing case has not been identified for a formal designation.
"In the absence of council support and within the context of the tight financial pressures facing Scotland, proceeding with the formal statutory process would be premature, create unwarranted expectations and cause confusion."
The news is sure to dismay those who were pinning their hopes on achieving national park status to rejuvenate one of Scotland's most fragile communities.
IN DETAIL: