Rural ambulance service under scrutiny
Scottish ambulance chiefs will meet people in Moray over concerns about rural ambulance cover.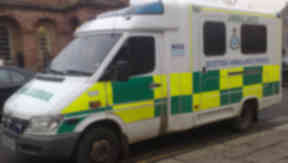 A showdown meeting between Scottish Ambulance Service bosses and community leaders in Moray is set to discuss "serious" concerns about rural ambulance cover.
It follows the death of a local woman after a trainee ambulance man's refusal to respond to a 999 call because he was on his break.
Mandy Mathieson, 33, died of a heart attack in Tomintoul in October. Owen McLaughlan, the on-duty technician, was 800 yards away at the time, but the call was instead answered by paramedics based 15 miles away.
An air ambulance helicopter was also sent out and reached the scene almost half an hour after the 999 call.
McLaughlan, who was suspended while the Scottish Ambulance Service carried out an investigation, will not be sacked, a spokesman from the service confirmed.
"The Scottish Ambulance Service has completed its investigation into the incident in Tomintoul on 16 October," he said.
"The ambulance technician involved will undertake further training and pass an evaluation before being allowed to return to operational duties."
Charlie Skene, Mathieson's uncle, said her relatives were disappointed by the decision but not surprised.
"Surely they can't teach compassion, so what are they going to give him lessons in?" he said.
Ambulance service chief executive Pauline Howie, chairman David Garbutt, and area general manager Milne Weir will meet with Tomintoul residents on Friday. Moray MSP Richard Lochhead said he hoped officials would be able to "restore" people's confidence in the service.
Villagers are also angry about claims that an ambulance on duty at Tomintoul was unable to take patients to hospital in the two weeks after Ms Mathieson died because it was single-manned.
It meant no one could attend to patients while the vehicle was being driven. The community is also concerned about a decision to withdraw a 4x4 from service and replace it with a rear-wheel drive vehicle, which is not as good in snow.
A Scottish Ambulance Service spokesman said: "The chairman, chief executive and local operational management will meet with the community to set out the ambulance cover arrangements and planned improvements and listen to people's views."
IN DETAIL