Actress Penelope Keith set to open Highland cafe
The star has won permission for a tearoom on the Black Isle after a six-year battle.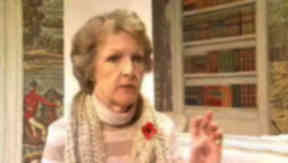 Actress Penelope Keith will now be enjoying The Good Life at her very own cafe in the Highlands after a six-year battle with planners.
The star of several hit comedy series has at long last won permission to open a tearoom in Avoch on the Black Isle.
Her plans for the cafe with actor husband Rodney Timson hit a series of snags, including a police investigation into a petition against the plans.
Residents objected to the proposal with 240 people signing a petition, but later it emerged that some of the names were duplicates and others were deceased.
The planning application dated back to 2005 and was originally rejected by Highland Council over its design. She appealed, and it was again refused by the Scottish Government.
But after changing architect and submitting a revised design last summer the tearoom has at last been given the go-ahead.
Officials from Highland Council's planning department in Dingwall have finally approved the application under delegated powers. Ms Keith, who also starred in the comedy To The Manor Born, did not wish to comment about her project.
The couple, who own property in nearby Fortrose, rarely give interviews about their personal lives. However, local councillor Billy Barclay was delighted to see an end to the protracted planning wrangle. He said the cafe would be an asset to Avoch, although he does not believe Ms Keith herself will be making many appearances.
He said: "I'm quite impressed by what is going to be there, but I don't think we are going to see her walking about with an apron serving tea.
"It has all come to a conclusion and it will definitely improve that area because the harbour is being transformed from a fishing harbour to a mooring harbour and there will also be dolphin trips.
"The couple are quite keen on the cafe and the Black Isle and have a lot of good things to say about here and are up regularly. They are really nice folk."
He said the project would provide much-needed employment to the area, providing three or four jobs. Caroline Eccles, chairwoman of the Avoch and Killen Community Council, also welcomed the news the cafe had been approved.
She added: "We feel that it will be a real asset to the community."
The actress, who played Margo Leadbetter in The Good Life, is probably most famous for her part as Audrey fforbes-Hamilton in To The Manor Born from 1979 to 1981.
The show, written by Peter Spence, became one of the most popular British sitcoms ever, with audiences of up to 24million.