Blockbuster film Highlander set for a remake
Rumours are circulating that hit 1980's movie Highlander is to be shot again in the north of Scotland.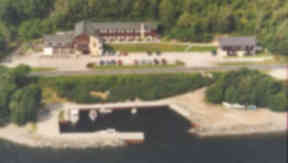 A remake of the classic cult movie Highlander starring Scots star Kevin McKidd is rumoured to be heading to - believe it or not - the Highlands.
Plans are under way to shoot a major feature film in the north of Scotland, with confirmation that movie-makers are looking for rooms for a cast and crew of more than 200. The move has given the region a massive economic boost.
The name of the film and its stars are so far shrouded in secrecy, but there is wide-spread speculation it will be a remake of Highlander, starring Elgin-born Kevin McKidd.
The film-makers are looking for accommodation in the Inverness and surrounding area during August and September. An accommodation agent, Mediacom 24-7, has contacted hotelier Willie Cameron, who acts as a consultant to the film industry.
They are looking for rooms to sleep a cast and crew of at least 200 people.
Mr Cameron, who runs The Clansman Hotel, between Inverness and Drumnadrochit, said the movie would be a "major coup" for the region, on the back of the Scottish Open being hosted at Castle Stuart golf links at Ardersier, near the Highland capital.
He added: "It's another good boost to the area. Even if they are just looking at the area and it comes to nothing, it puts us back on the map as far as locations are concerned.
"This is a superb film location because we've got natural scenery, industrial sites and ancient historical sites. Over the years, the Highlands has been used great, then it takes a dip. They've been using places like Romania and Slovakia, but we still have fantastic locations.
"It would be a major coup for the area to get this film."
Mediacom, based at Pinewood Studios in Buckinghamshire, have told Mr Cameron the "large feature film" was due to shoot in the UK from early August until September, then elsewhere in Europe in October and November.
The agency is looking for four-star accommodation for a crew of more than 150, three-star accommodation for at least 20 drivers, and five-star treatment for more than 30 "higher-end possibly VIP" people.
Highlander, released in 1986 and starring Christopher Lambert and Sean Connery, was about an immortal romantic action hero, MacLeod. Many scenery shots were filmed in Scotland, including Eilean Donan Castle.
Kevin McKidd, who starred in Trainspotting, has been linked with the lead role of MacLeod. It has been reported that Justin Lin, responsible for the Fast and Furious films, will be directing the movie, which is being written by Twilight Screenwriter Melissa Rosenberg.
The Highlands has featured in many other films, including most recently the Harry Potter franchise, which was shot in parts in Lochaber and the Glenfinnan viaduct.
In 2008 a £3.2m Viking epic, Valhalla, starring James Bond actor Mads Mikkelson, was filmed in the north. It was said to have brought £2.7m to the Scottish economy.
Other movies where filming took place in the Highlands include Braveheart and Rob Roy. Mike Smith, manager of Inverness Business Improvement District, said: "We think it would be absolutely fabulous to have such a film made in the area."
"It would benefit the economy and also raise the profile of the whole of the Highlands. I am sure business will be hugely supportive of such a move and we will do anything we can to help it happen."