£40m tidal power farm gets green light
First tidal farm off the Isle of Skye is set to be developed.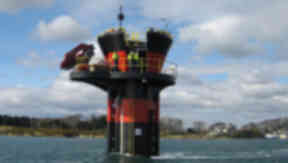 One of Scotland's first tidal energy farms is to go ahead in a strait of water between the Isle of Skye and the Scottish mainland.
The four turbine tidal farm would be built in Kyle Rhea, by Marine Current Turbines Ltd, the British developer of SeaGen.
The project is likely to have the capacity to generate electricity for up to 8,000 homes in the Highlands and Islands by harnessing the power of the fast tidal currents. 
Marine Current Turbines (MCT) is aiming to deploy the tidal farm by 2014 and cost £40m.
The securing of the lease agreement from The Crown Estate follows MCT's recent passing of the UK Government's operating performance criteria for the emerging tidal and wave energy technologies. 
The SeaGen tidal turbine, which has been operating in Northern Ireland's Strangford Lough since 2008, is the first-ever tidal or wave energy device to have passed this milestone.
Martin Wright, CEO of Marine Current Turbines said: "Securing The Crown Estate's approval is a vital part of the process to deliver Scotland's first tidal farm and set the UK on the path towards having a significant marine energy industry within the next decade. 
"Tidal energy can deliver to the UK new jobs, predictable low carbon generation and greater energy security.  The UK and Scottish Governments recognise the opportunity that tidal and wave energy offers and we hope that they will give greater incentives over the next 12 months to the market in order to make it happen."
Johanna Yates, Scottish Renewables Offshore Policy Manager said:  "The announcement shows Scotland is entering the next phase of its development with our wave and tidal scaling up from single prototypes to large scale developments.
"This project in Kyle Rhea illustrates the growth of the marine sector, and it is these kinds of plans in Scottish waters that will not only maintain but enhance our global lead in this technology."