Blimp flown in Highland windfarm protest
A large balloon has been flown in protest near a proposed windfarm in Inverness-shire to show the scale of the turbines.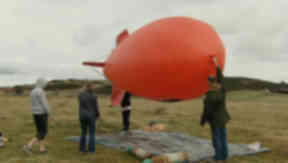 Anti windfarm campaigners in Inverness-shire have taken to the air to protest about giant turbines planned for woods near their homes.
A large balloon known as a blimp was flown at turbine tower height near Blairmore Forest to illustrate the impact they will have on commuinities around Kiltarlity and Abriachan.
Druim Ba Sustainable Energy wants to erect 23 turbines each 500ft high.
Campaigners who raised £850 to bring the blimp to the Highlands say the proposed development will impact on the wider area as well as on people's lives.
Lyndsey Ward, an objector said: "People don't know what 500ft looks like, so if they can see this blimp from their homes today they will see the turbines. The community think it is industrialising where they live – the wind turbines are going to ruin the landscape.
"The community benefit the developers are offering, and actually per head it is a lot less than our electricity bills are currently. It has now been proved that wind power is unreliable."
The objections have been made in the wake of a report that shows windfarms produce below 10% of capacity for more than a third of their generating time.
The analysis also suggested output was low during the times of highest demand.
Carried out by Stuart Young Consulting, the research analysed electricity generated from UK windfarms between November 2008 to December 2010.
However, industry representatives said they had "no confidence" in the data.