Cathedral improvements shed light on building's past
Staff at St Magnus Cathedral were surprised to find previously unseen markings on stone pillars when new uplighters were installed.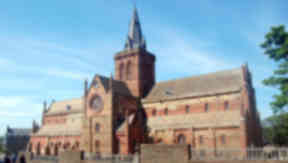 A series of stonemason's markings, thought to be over 600 years old, have been discovered by accident in Kirkwall's St Magnus Cathedral, thanks to the installation of a modern lighting system in the ancient building.
The 12th-century Viking cathedral, situated in the heart of the Orkney capital, is the most northerly in Britain.
Dominating the Kirkwall skyline, the mediaeval building is a visible link to the Norse heritage of the islands and receives over 70,000 visitors a year.
Hundreds of distinctive symbols, including marks left by the cathedral's original 12th-century stonemasons, are scattered throughout its interior but when a new LED lighting system was switched on for the first time, cathedral staff were stunned to see a series of previously unnoticed mason's marks on archways near the entrance.
According to cathedral custodian Julie Marwick, the newly revealed marks are thought to date from the late 14th or early 15th century, when the entrance to the cathedral was extended.
"It was really quite exciting," said Julie. "Although there are over 100 different marks that have been found throughout the cathedral, we've never found so many on one arch. They only became visible once the new lighting was installed because we've now got uplighters. It was like 'wow, where did they come from?'"
For the current cathedral stonemason Colin Watson, the marks are a tangible link to his ancient counterparts.
"The feeling is you're connecting with the guys who made the stone that's there," said Mr Watson, who has worked on the cathedral for the past 25 years and has his own mason's mark. "You wonder what was in their head when they set out to make the stone."
"Before the days of contracts, masons were paid for the work they did, so when they made a stone, they marked it and that meant they got paid for it. If it didn't fit, or if it was wrong in any way, they knew the mason through his mark and knew who to shout at. Basically, it was a form of identification for payment."