Stranded whales off north Highland coast are returned to open seas
Rescuers have returned 44 pilot whales to open water after a mass stranding killed 25 of the mammals at the Kyle of Durness.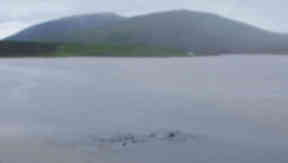 Rescuers have returned 44 pilot whales to open water after a mass stranding killed 25 of the mammals off the north Highland coast.
Attempts to refloat the whales at the Kyle of Durness began last night and continued in the early hours of this morning.
British Divers Marine Life Rescue (BDMLR) medics, the coastguard and the Navy managed to rotate whales that were upside down to prevent them from drowning when the tide came in.
The BDMLR said many of the whales had stranded on their sides, on top of each other and upside down and were breathing in sand.
Medics from as far as Newcastle responded and nine sets of pontoons were delivered to site overnight, but were not used as the estuary flooded too quickly. They remain on site in case they are needed over the weekend.
The water receded this morning, and several bodies were discovered on shore, thought to be of those that died last night.
Three whales were found still alive, however they have been euthanased by vets as their condition is not suitable for refloating.
Post-mortem examinations to try and determine both the cause of the stranding and the deaths of the whales will now be carried out by pathologists, assisted by BDMLR medics.
Rescue teams continued to search the coast, lochs and headlands today for evidence of the other whales who, it is hoped, have returned to open water.
Jamie Dyer, of the BDMLR, said: "It's a pretty good percentage in as far as mass strandings of pilot whales go.
"But it doesn't really feel that way when you see the carcasses or see whales stranded on a mud bank. But sometimes it's a battle to get any of them back out."
The mammals are known to prefer deep water but come inshore to feed on squid, their main food.
The Whale and Dolphin Conservation Society (WDCS) International head of Science Mark Simmonds said the situation looked like a "whale trap".
He explained: "Something may have startled the group further out to sea and they panicked, came into this unusual situation and were unable to find their way out.
"The stranding of one or two animals would possibly cause distress and the others in the group would try to assist the stranded individuals and themselves get into trouble.
"Stranding on rocks will wound the whales quickly but even on a soft sandy shore it is still a race against time for experts to try to get them back into the water and even then there may be a problem of persuading the group to go back into the open sea."