Twelve rescued from vessel in Pentland Firth sea cave
Coastguard crew have successfully rescued twelve people after their boat hit rocks off the Isle of Stroma.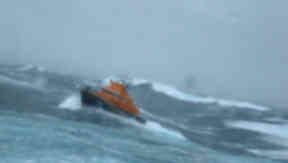 A lifeboat has rescued twelve people trapped in a sea cave off the Isle of Stroma in the Pentland Firth.
Their rigid hulled inflatable boat, the North Coast Explorer, hit rocks and got into difficulty at Gloup Cave at around 3pm on Tuesday.
The Aberdeen Coastguard received the call and deployed the Thurso lifeboat, supported by the shore-based coastguard rescue team.
Since the swell was high inside the cave, a decision was made to take everyone off the boat and make a mayday broadcast.
The coastguard helicopter from Shetland was also scrambled and a yacht, 'Gulan' also went to the scene and stood by, ready to assist.
A coastguard spokeswoman said none of the people on board the boat were injured and that they had been rescued successfully.
She said that the ten passengers and two crew arrived safely at John O'Groats. It is believed that the people on board were tourists.
Pete Lowson, Aberdeen Coastguard Watch Manager says: "All of the crew and passengers are safe and well, having been taken back to John O' Groats by the lifeboat."
Stroma is the more southerly of the two islands in the Pentland Firth between Orkney and Caithness.