Discovery raises fresh questions about origins of Lewis Chessmen
Icelandic find casts doubts on theory that historic gaming pieces were manufactured in Norway.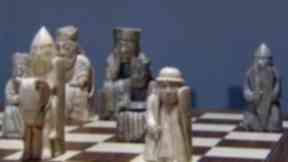 The discovery of a 12th-century chess piece in Iceland has raised new questions about the heritage of the famous Lewis Chessmen.
Some archaeologists have suggested that the find points to the Viking hoard is of Icelandic, rather than Norwegian, origin.
The debate will be taken up by Scandinavian and British experts at an international academic conference being held in Reykjavík on August 19.
It coincides with a major "homecoming" exhibition of the artefacts on Lewis, where they were found in 1831.
The majority of the 78 figures were acquired by the British Museum, while 11 pieces are held by the National Museum of Scotland.
Experts at both museums say their design indicates they hail from Trondheim in Norway.
But this theory has been challenged by the recent find of a historic chess figure, made of fish bone and wearing a helmet, shield and sword, at Siglufjordur on Iceland's north coast in July.
Archaeologists say it was probably cut in a known historic Viking craft workshop at Skálholt near Reykjavík. It is estimated to be about the same age as the Lewis pieces.
At that time Iceland was taken over by Gall Gaidheal, a Norse-Hebridean population of later Vikings, including their Gaelic-speaking slaves, who moved on to new lands after conquering the Western Isles. Trade between the two places was common place as was longships' routes from Norway.
Icelandic scholar and former member of the country's parliament Gudmundur G. Thórarinsson has claimed that the 800 year-old Lewis Chessmen were carved by the same craftsmen.
Limelight
Mr Thórarinsson said: "The finding certainly brings the limelight closer on Iceland.
"The archaeologists working at the excavation say that the chess piece is Icelandic and that it is from 12th or 13th century, which puts it in the same time space.
"This shows that people in Iceland played chess at this time with pieces figured like the berserker (a Lewis chessman piece).
"This shows that they were carving in a similar style as the Lewis chess pieces, which can hardly be a coincidence."
He said the bishop pieces hold vital clues as the Lewis figures "are the first known sets that connect chess with the church."
Only Iceland historically used such bishop pieces and they are mentioned in old manuscripts written around 200 years beforehand, he added.
The hoard of valuable Viking treasures was found in 1831 amongst stone bothies in a small glen by the beach at Ardroil by crofter Calum Macleod of nearby Pennydonald.
It contains pieces from at least four chess sets and as the largest group of early chessmen to survive, the find is one of the most significant archaeological discoveries ever made in Scotland.