Uncertain climate surrounds start of grouse season
The Glorious Twelfth fires hopes that the industry can overcome the troubles of the recession and bad weather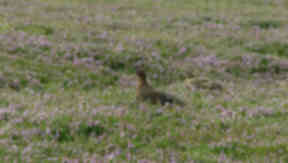 Scotland's grouse shooting season has got under way amid fears that the recession and bad weather could hit the industry.
As the first shots were fired on the Glorious Twelfth, some sporting estates are facing a barren summer as the poor recent conditions have meant chicks are unable to fledge.
More than a thousand people are involved in the industry in Scotland, and although steeped in tradition those at its heart say it is as relevant as ever.
Allan Macpherson-Fletcher, whose family have owned the Balavil Estate near Aviemore for more than two centuries, said: "We're surrounded by people who have run out of money to maintain these estates, which are hugely expensive. You've got a big house and you've got to employ people on the hill.
"When the grouse numbers decline, so does your income, and it's very very difficult to maintain that."
The first grouse shot on Friday morning were already heading towards the New Town Cookery School in Edinburgh before the end of the day.
Dr Adam Smith, of the Game Wildlife Conservation Trust, said the shooting season remained a staple of the Scottish rural economy.
He said: "The twelfth is a handy hook to hang it on, but it goes right through quite a long season. It's so much about the jobs that are supported and the money that's brought into the communities, this wonderful food that's produced and the maintenance of our landscape."