Plans for Western Isles first solar energy farm scrapped
Plans for 25,000 solar panels in the Western Isles are abandoned over delays and government cutbacks.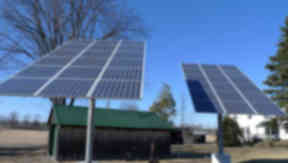 Plans for the first solar energy farm in the Western Isles have been abandoned.
The proposal for 25,000 solar panels to cover 11 acres of the Arnish Moor, three miles outside Stornoway, had been agreed in principal.
Gary Shepherd, of Surrey-based NGN Telecoms, wanted to build the five megawatt energy scheme in a 32-acre natural hollow in the moorland.
He has now told island firms who were due to carry out work for him that the project has been cancelled because of delays and government cutbacks.
The scheme had received preliminary approval and a public consultation was due to be held before a formal planning application was lodged.
Lewis architect Philip Mclean says he was not paid for planning work he carried out and has been left £1500 out of pocket.
The developer has previously said that the solar energy would power the Arnish industrial estate and Creed business park.
The site was specifically chosen because it sits in a natural basin and is located away from any residual developments, on ground which has no crofting potential or rights as the ground is too poor quality to sustain even grazing for livestock.