Trains will transport nuclear fuel from Dounreay
More than 40 tonnes of fuel will be transported by rail from the Highlands to Sellafield nuclear site in Cumbria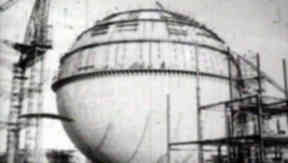 A 300-mile journey for tonnes of nuclear fuel from Dounreay across the country has been approved.
Rail services will be used to transport 44 tonnes of the fuel from the Caithness site to Sellafield in Cumbria.
The proposal, which will remove nearly half of the fuel left at Dounreay from the site, has been approved by the Nuclear Decommissioning Authority.
The spent fuel, known as breeder material, will be reprocessed at the Sellafield nuclear site where experts will recover fuel which could be used to generate electricity in the future.
Alex Anderson, head of fuel and waste for site closure contractor DSRL, said: "We've moved out the foreign nuclear fuel over the past 10 years and this decision lets us now start returning the UK fuel.
"It is the beginning of the end for nuclear transports in the Highlands."
The projected total bill, including transport costs, is £60 - around £5m less than the cost of indefinite storage of the fuel at the Caithness site.
Friends of the Earth Scotland has condemned the movements as unnecessary and says it will expose the public to unacceptable risks of an accident or sabotage in transit.
Transportation of the spent fuel will begin next summer.
The NDA is yet to decide how other material at Dounreay which contains plutonium, like unirradiated mixed oxide fuel, will be dealt with. They are looking at the possibility of transporting it to Sellafield.
IN DETAIL