Conservation charity objects to Highland wind farm
The John Muir Trust objects to plans for 43 wind turbines at a Sutherland estate.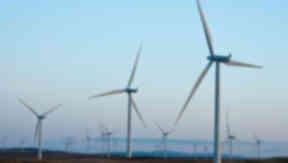 The UK's leading wild land conservation charity has objected to plans for a 43-turbine wind farm in the Highlands.
The John Muir Trust says plans for the wind farm at Glenmorie near Ardgay in Sutherland will have a significant impact on nearby wild land.
Some of the turbines would be built only 150m from the edge of an area designated by Scottish Natural Heritage as a search area for wild land.
The trust says that views from local landmarks like Ben Wyvis, the Fannichs and Beinn Dearg, the Dornoch Firth and Skibo Castle would all be impacted by the development, put forward by Glemorie Wind Farm LLP.
Steven Turnbull, policy officer for the John Muir Trust, said: "The impacts of the wind farm on the landscape would be significant and completely inappropriate for an area of wild land.
"Even though the applicant has acknowledged these impacts, they've offered little evidence to support their decision to proceed regardless."
A supporting statement lodged with the application says "significant landscape and visual impacts are inevitable".
The Highland site is remote and isolated, with "limited visual effects", the report goes on to state.