Ambulance staff balloted on rest breaks deal
Staff could receive a one-off £1500 payment and £100 every time they are asked to work during a rest break.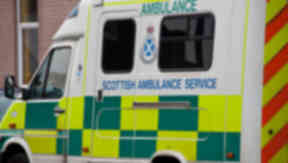 Ambulance staff are being balloted on a new deal which could end the ongoing deal over rest breaks.
Scottish Ambulance Service staff who respond to emergencies are being asked whether they will accept a deal to be compensated if they are made to work while they are on a break.
Crew take unpaid rest breaks, during which the control room does not contact them.
Recent controversies, such as the death of Mandy Mathieson, 33, who had a cardiac arrest in Tomintoul, Moray in October last year, have brought the policy into focus.
An ambulance technician was on a meal break and did not attend the emergency, even though he was stationed close to her home.
In October crew agreed to take part in a three-month deal while talks continue.
Thousands of staff are now being balloted to see if they will accept a new deal, including a one-off £1500 payment.
The proposal also includes a £100 payment if the rest break is disturbed and a further £100 if they don't get a replacement break within seven hours.
It will be the third time that ambulance workers have voted on whether to accept a deal over rest breaks.
The three unions involved - the GMB, Unite and Unison - are not making any recommendations to their members.
The result is expected to be announced early in January.