'Resolution in sight' in ambulance rest breaks dispute
Unions want ambulance staff to receive a monthly payment for working through their breaks.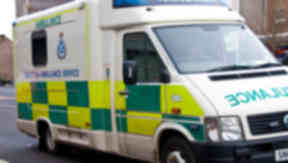 A dispute over rest breaks for ambulance staff could be close to a resolution.
Unions representing staff involved in the stand-off with the Scottish Ambulance Service (SAS) have proposed a solution to break the deadlock.
SAS wants to end the practice whereby paramedics are not dispatched to emergencies during their break time.
Recent controversies, such as the death of Mandy Mathieson, 33, who had a cardiac arrest in Tomintoul, Moray, in 2010, have caused public anger over the policy.
Staff want to be compensated for working during break times to the same level as other emergency workers and the union has already rejected several pay offers.
After five days of negotiations the three unions involved have suggested that all ambulance staff should be guaranteed a meal break during each shift.
They also proposed that all staff should be available during their breaks, and be paid £150-a-month for a maximum of five months for being available during rest breaks. But no extra payment would be made if they're called out.
IN DETAIL