Rare birds disappearing at a 'very worrying' rate
Staff at the Cairngorms National Park say it is 'very likely' birds such as the golden eagle are being hunted and killed illegally.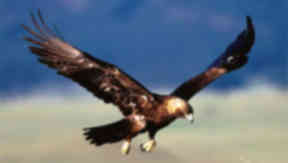 **Rare birds are disappearing from the skies above a Scottish national park at a "very worrying" rate, experts have said. **
Two golden eagles, two hen harriers and a peregrine falcon disappeared from the Cairngorms National Park in 2010.
Staff at the park say it is "highly likely" that the birds of prey are being hunted and killed illegally.
Last year a peregrine, a hen harrier and a hobby also were lost from the park.
Staff have been tagging raptors in an effort to track their movements and learn more about their habits.
Karen Couper, ecology adviser, said: "The survey has so far highlighted the high mortality rate of these birds with two golden eagles, two hen harriers and one peregrine disappearing in 2010, and single peregrine, hen harrier and hobby in 2011.
"This high mortality rate is very worrying. The Cairngorms National Park is a great place for raptors but the populations of these raptors are low.
"The exact cause of the deaths of our tagged birds is not known. Some will be natural causes but it looks very likely that some have been killed illegally both in and outside the national park, which is simply unacceptable."
In June last year three golden eagles, two peregrines and a hen harrier were tagged, and are being followed by the Raptor Track programme.
Roy Dennis, of Raptor Track, said: "The information on the lives of individual birds is providing us with exciting new information on raptors in the national park as well as giving people interested in birds a whole new dimension of enjoyment and knowledge."