Treasure hunter unearths stash of ancient coins
The coins, dating back to the 13th century, could be worth thousands.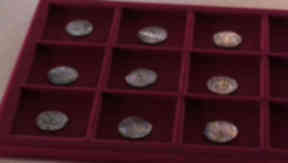 **A treasure hunter has unearthed a stash of ancient coins which could be worth thousands of pounds. **
Mike Aitken found the perfectly preserved 13th century coins with his metal detector.
The 27-year-old, from Killimster in Caithness, discovered the treasure trove only a year after he took up metal detecting as a hobby.
The collection of 27 coins could fetch thousands at auction, but Mr Aitken says he is more likely to loan them to a local museum.
Five of the coins date back to 1279 and feature the head of King Edward I, the so-called Hammer of the Scots.
Others display the head of King Alexander III, who ruled Scotland between 1249 and 1286.
He is keeping the location of his find a closely guarded secret.