Extra £2.5m funding for island ferry freight traffic
Transport minister Keith Brown said the move would bring fares into line and help remote communities.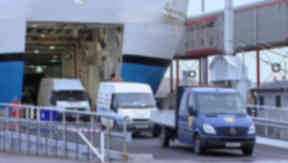 The Scottish Government has announced an extra £2.5m in subsidised funding for freight traffic on island ferry routes.
Transport minister Keith Brown said the move was designed to bring fares for all hauliers into line and ensure no fares rise by more than 50% in a single year.
The government said it would also lobby Westminster on issues that fell beyond its remit and work on a six-month study into the broader inpact of its ferry fares policy.
The extra funding will cover ferry services to Coll, Tiree and the Western Isles, which are among the longest routes in Caledonian MacBrayne's network.
Last week the governent announced it was extending its Road Equivalent Tariff, which caps fares on all CalMac routes, for cars and passengers.
Mr Brown said: "We are determined to support our island and remote communities and underlined this last week with new arrangements for small commercial vehicles qualifying for RET on routes to Western Isles, Coll and Tiree.
"Today we are providing more evidence of our commitment in support of those communities and all hauliers serving those communities.
"I had a constructive meeting with hauliers last week and one particular concern raised was that previous discount schemes had benefitted some hauliers more than others. By capping the rises all hauliers on any given route will pay the same.
"Our ambition is to see greater connectivity right across the Western Isles, Coll and Tiree, and our pilot has shown the scheme to have had a very positive impact on local economies, boosting the local tourist trade."