Fears Dounreay could become 'world's nuclear dustbin'
The Highland nuclear plant is struggling to return nuclear waste sent from other countries in the 1990s.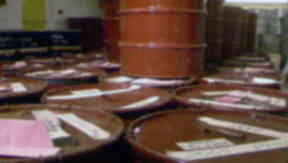 Former nuclear plant Dounreay could become "the world's nuclear dustbin", campaigners have warned.
The Scottish Government has been criticised over a waste exchange deal with countries from around the world.
Australia, Germany and Italy are refusing to take back radioactive waste sent to the Caithness plant in the 1990s, unless it is vitrified, or encased in glass.
The Dounreay facility encases waste in concrete and does not have the proper facilities for the glass alternative.
Scottish Ministers have accepted a programme of "waste substitution", which means different kinds of waste - with equivalent radiation - will be sent back to the countries involved.
Some campaigners say the waste should never have been transported to Scotland in the first place.
Anti-nuclear campaigner Tor Justad said: "Ironically it shows that other countries have much higher standards than we do.
"What they're saying to us is they don't want it back in the form that is being proposed and clearly that has to be negotiated between the different countries involved."