Archaeologists unearth hundreds of Bronze and Iron Age sites
Seven Neolithic cairns to go on display in Caithness as part of £100,000 archaeology project.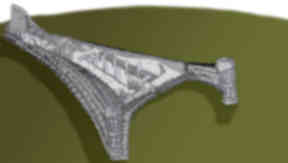 Hundreds of Bronze and Iron Age sites have been unearthed by archaeologists in part of the Highlands.
The £100,000 archaeology project has revealed 300 sites over West Caithness.
The project, funded by Baillie Wind Farm, involved Scotland's first large-scale survey using LiDAR - light detection and ranging - technology.
The equipment can map ancient sites in fine detail and reveals 3D images of their shapes, size and content.
As part of the project a cluster of seven Neolithic cairns will be unveiled to the public for the first time.
It is hoped that the 5000-year-old horned cairns at the Hill of Shebster wind farm near Thurso will be unveiled within the next two months.
Dr Graeme Cavers, of AOC Archaeology, said: "The Shebster area is an unusually good example of a well-preserved cluster of sites.
"They are essentially burial and ritual monuments, much like the chapels and shrines of more recent times, and each of them is likely to have been used exclusively by individual local groups or communities.
"The survey makes an invaluable contribution to the archaeological record of Caithness, and is really the first large-scale survey of its kind undertaken in Scotland."
The project has been funded by Baillie Wind Farm, the developer behind plans for 21 wind turbines in the north of Scotland.