Step forward for Western Isles' biggest planned wind farm
The Eishken wind farm will create ten times more power than the Western Isles needs.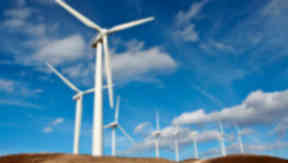 The largest proposed wind farm on the Western Isles has been cleared to go ahead after a new investor came forward.
Independent electricity firm International Power has confirmed it plans to buy the rights to the 140 MW Eishken wind farm on Lewis.
The London-based company has taken over the reins from Nick Oppenheim, who previously secured planning permission for 39 wind turbines on his private estate in South Lochs.
International Power says preliminary engineering work on the £230m site is under way and on-site construction will begin next year.
The major scheme is due to start producing electricity in 2016, soon after a proposed subsea link is due to be completed.
The wind farm would produce enough electricity to power more than 100,000 homes, which is more than ten times the power needed for the local area.
Steve Riley, European president of International Power, said: "This project is a positive step for us in developing a major wind portfolio in Scotland.
"It will provide a significant boost to the local economy as well as help to secure future UK energy supply from renewable sources."
High voltage overhead lines will carry electricity across the islands to a convertor station above the crofting village of Gravir, where a subsea link will take it ashore close to Ullapool.
IN DETAIL