Hundreds attend annual Highland comic expo
More than 700 people went to the Highlands International Comic Expo in Inverness.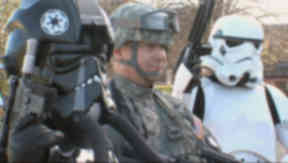 Comic fans from across the UK have been flocking to the Highlands for an annual festival.
Hi-Ex, the Highlands International Comic Expo, aims to bring comics, sci-fi and cartoons to a new audience.
More than 700 people attended the interactive event at the weekend, which included workshops, art classes and discussion panels with leading comedy writers.
Co-organiser Richard Clements said: "You'll have people bringing their work in and showing it to artists, and they're saying there's so much potential.
"Sometimes with the Highlands it can feel like everything else is happening outside."
Co-organiser Vicky Stonebridge said: "We wanted to make sure it's happening here and that the Highlands is a place to be."