Polar bears meet for the first time at Highland park
Staff found a playmate for Walker the polar bear after the female planned to be his mate was found to be pregnant.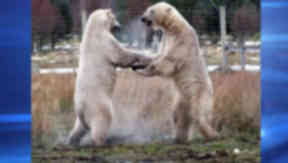 Walker the polar bear has met his new playmate for the first time at the Highland Wildlife Park.
New arrival Arktos was introduced to resident star Walker on Friday and the pair appeared to hit it off instantly.
Arktos arrived at the Highland park earlier this week, from Hannover Zoo in Germany.
Walker was due to be joined by a potential mate at some point this year, but the female picked out was found to be already pregant.
Instead they found Walker a companion and wrestling partner in the shape of the four-year-old Arktos.
Arktos was housed close to Walker's enclosure, to allow the bears to get used to each other's scents before they were introduced.
The pair finally met on Friday. The first picture of their meeting was taken taken by staff at the Highland Wildlife Park, and posted on the company's Facebook page.
IN DETAIL