Black Watch soldiers return home from Afghanistan
Around 450 soldiers deployed to the Helmand province in October last year to help with security of around 140,000 people.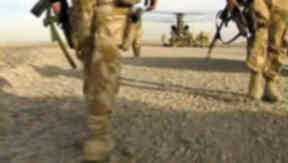 The final tranche of Black Watch 3rd Battalion soldiers have arrived back in the Highlands from Afghanistan.
The 3 Scots soldiers arrived back at their base in Fort George, near Inverness, on Thursday evening after spending six months on tour.
Around 450 soldiers were deployed to the Helmand province in October last year as part of the 20 Armoured Brigade which commanded Task Force Helmand.
The battalion was responsible for the combined force Nad-e Ali, covering a large distance of around 170 square miles, populated by more than 140,000 people.
The Scots soldiers took on a variety of roles during deployment, which included training and mentoring of Afghan security forces, helping them to take responsibility for security in the region.
Lieutenant colonel Ed Fenton said: "Most of our job has been about security patrols and clearing parts of Nad-e Ali to get it ready to hand over to Afghan security forces, which we did successfully for the southern part of our area in January this year."
They will now take part in a series of parades in Inverness, Forfar, Kirkcaldy, Dundee and Perth between Wednesday and Friday next week.
IN DETAIL