Family 'lucky to be alive after near miss with train' at level crossing
Couple and their four children were passing over a broken level crossing and say they were nearly struck by a train.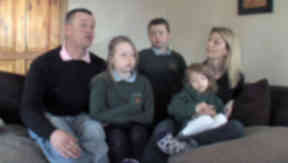 A family say they are lucky to be alive after what they claim was a near-miss with an oncoming train at a Highland level crossing.
John Kidd, 38, says he was driving the family's Landrover Discovery across the notorious Delny crossing near Tain on Tuesday evening when the vehicle - with his wife and four children inside - was nearly struck by a train.
The family say there were no warning lights to suggest a train was approaching, and no sirens.
Mr Kidd said: "We've come to go across the track, I've looked to my right, doing about 5mph and we've spotted the train coming right towards us.
"The train was at reduced speed but still travelling. We've come through the track and it's lucky that it's missed us by about a second.
"They never sounded their horn. There was no lights, there was no indication that there was a train coming. We missed it by seconds."
A Network Rail spokesman strongly denied that the incident amounted to a near-miss.
He said: "No near miss has been reported to Network Rail or British Transport Police by any train driver or operations staff regarding Delny level crossing this week.
"If a level crossing has failed, train drivers are made aware of the fault by a signal on approach to the crossing.
"Trains can still pass over the infrastructure so long as they do so at a very low speed and are sure the crossing is clear of any road vehicle traffic.
"We are confident there has been no risk to public safety."