Man dies on virus-hit cruise ship
Around 150 passengers are being treated for the norovirus illness, commonly known as the winter vomiting bug.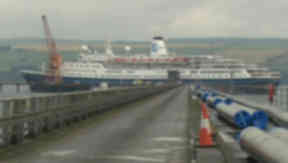 An elderly cruise passenger has died after a major outbreak of a vomiting bug struck his ship while berthed at a Highland harbour.
Around 150 passengers are being treated for the norovirus illness, commonly known as the winter vomiting bug.
Police confirmed an English man on holiday with his wife on board the British cruise ship Marco Polo berthed at Invergordon had died.
Dr Ken Oates, Interim Director of Public Health at NHS Highland said: "We are working with local GPs in Invergordon as a number of people on board a cruise liner are suffering from vomiting.
"It is a suspected outbreak of norovirus but we have to carry out further tests before we are able to confirm exactly what it is."
However, they did not confirm there was a death on board the ship, which was on a round-Britain cruise.
A Northern Constabulary spokeswoman confirmed there had been a death on the ship. She added: "We understand there was an underlying medical condition."
The Highland harbour was the first port of call for the Marco Polo on its cruise around the British Isles, with Orkney and Stornoway the next intended destinations.
But it remained in the harbour as doctors and ambulance crews attended to the dozens of sick passengers.
Interim Director of Public Health at NHS Highland, Dr Ken Oates said: "NHS Highland can confirm that around a 150 people on board a cruise ship docked at Invergordon have become unwell with suspected norovirus.
"The Marco Polo docked today.
"This evening two people have been admitted to Raigmore Hospital who are showing symptoms of norovirus.
"An elderly passenger died onboard the ship early this morning. He had serious underlying health conditions. The cause of death has not yet been identified. A post mortem will be carried out.
"NHS Highland is reassuring people that there is no risk to the health of the local community.
"Norovirus is commonly referred to as the winter vomiting bug. It is part of a group of viruses that are the most common cause of gastroenteritis (upset stomach) in the UK.
"A team of GPs and local nurses are onboard the ship to assist those who feel unwell.
"The advice being given to anyone who is suffering from the symptoms (nausea and vomiting) is to drink plenty of fluid and take bed rest."
"We now know that on board the ship there were just over 350 crew members and just under 800 passengers."
It is estimated that the norovirus affects between 600,000 and 1,000,000 people in the UK every year.
Outbreaks of the illness are common, particularly within contained environments such as hospitals, nursing homes and schools. This is because the norovirus spreads very easily from person to person and it can survive for several days in a contaminated area.
The symptoms of norovirus infection will begin around 12 to 48 hours after a person becomes infected. The illness is self-limiting and the symptoms will last for 12 to 60 hours. They will start with the sudden onset of nausea followed by projectile vomiting and watery diarrhoea.
Some people may have a raised temperature, headaches and aching limbs. Most people make a full recovery within one to two days. However some people, usually the very young or elderly, may become dehydrated and require hospital treatment.