Number of bug sufferers on cruise liner soars
A vomiting bug on a cruise ship in the Cromarty Firth is now affecting almost 400 people on board the vessel.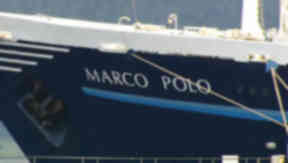 A passenger onboard a cruise ship at the centre of a virus outbreak has been airlifted to Raigmore hospital in Inverness.
NHS Highland say it was an illness unrelated to the bug sweeping the cruise ship where 380 people have so far been stricken by the vomiting illness thought to be the norovirus or winter vomiting bug.
Another passenger, Roy Sillet, 74, from Norwich, died on Monday, though it is believed he had underlying health issues. Health secretary Nicola Sturgeon is being kept informed of the situation.
She said: "The whole situation is worrying for those on the ship, and those in the local community. But health authorities and port authorities are all working hard to ensure the situation is kept under control and that people are given the right advice and reassurances."
Transocean Tours, based in Kent, said its medical team on board the ship was dealing with an unconfirmed virus that caused a form of gastroenteritis.
Those taken unwell on the ship were being treated by a team of GPs and local nurses while five people have required hospital treatment at Raigmore Hospital in Inverness.
There are 769 passengers and 340 crew on board and those not showing symptoms were allowed to go ashore to sightsee on Monday.
The ship has not been detained or placed under quarantine but has remained in Invergordon to allow extra manpower to join the ship, Transocean said. 

Moored off Invergordon, the Marco Polo
The Dr Ken Oates, interim director of public health at NHS Highland, said: "NHS Highland is reassuring people that there is no risk to the health of the local community.
"This is a common virus that can be in the community at any one time.
"There are hundreds of people on the boat who are absolutely fine and I think it would have been inappropriate to restrict their freedom."
Cromarty Firth SNP councillor Maxine Smith questioned why passengers were allowed to go ashore.
She said: "They have been allowed to go into local cafes and shops when apparently this virus is spread by touch. There are a lot of questions still going unanswered, it's really concerning."
The norovirus is also called the "winter vomiting disease" because people usually get it during the winter months, but it can occur at any time of the year. It spreads easily from person to person and can survive for several days in a contaminated area.
Microbiologist Professor Hugh Pennington of the University of Aberdeen told STV: "It's a classic to get norovirus on a cruise liner. Somebody brings the virus on; it gets into the environment and affects the other passengers.
"It's quite difficult to get rid of because you have to have a very deep clean of the whole environment of the ship so it doesn't infect the next load of passengers. But often that's exactly what happens and you'll see several trips, one after the other, coming down with the virus.
"On a cruise liner, the normal pattern would be to ask all those with symptoms to stay in their cabins for the duration of the illness. If the illness appears to be winding down then I think there's a point when you really have to allow people off the ship, but if people are still falling ill on the ship then I think that's a different matter."
The Marco Polo set off on Saturday from Tilbury, in Essex, on a cruise around Britain and was scheduled to sail from Invergordon on Tuesday to continue the voyage. However it is understood the liner will remain berthed until Wednesday at the earliest.
The Transocean Tours spokesman said port health officials inspected the ship on Monday and allowed passengers who were not unwell to go ashore and that they are doing all they can to contain and eradicate the bug.