Operators of vomit bug ship could face legal action
Transocean Tours are accused of failing to reveal that passengers had taken ill on the Marco Polo's previous cruise.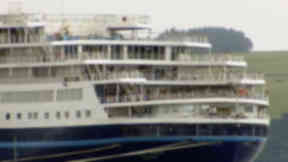 Authorities may take legal action against the operators of a ship at the centre of a vomiting bug outbreak after they failed to reveal that passengers had taken ill on its previous cruise.
Nearly 400 passengers and crew on the Marco Polo which is berthed in Invergordon have shown symptoms of norovirus with six requiring hospital treatment.
The London Port Health Authority said it was not informed of an illness onboard the liner during its previous trip to Iceland that affected 31 people.
Jon Averns, London Port Health Authority Director, said: "Masters of ships are required to notify us of any suspected infectious diseases aboard a ship, prior to it arriving in London - and this is a matter that we take very seriously.
"Consequently, we will investigate the circumstances relating to the Marco Polo very thoroughly, and we will take appropriate action accordingly".
Invergordon MSP David Stewart said: "If this allegation is correct then I'm absolutely outraged. It's a very clear procedure - the owners of the vessel should have informed the London Health Port Authority. If they haven't done that then this is very serious, and I'll be pursuing this with the Secretary of State for Transport at Westminister".
The ship's operator, Transocean Tours of Bremen announced on Tuesday that the ship's voyage was to be cut short and now plans are underway to return the passengers home.
The operator had a near mutiny on its hands, when the proposal of chartering a train to return the holday-goers south was met with a petition by passengers opposing the plan.
Passengers have now been given them the choice of returning to England via the specially-chartered train or staying with the ship, both of which should depart on Thursday.
The Marco Polo left Tilbury in Essex on Saturday on a round-Britain cruise. About 380 people on board the ship have shown symptoms of the illness according to NHS Highland.
One passenger, Roy Sillet, 74 from Norwich died on Monday of an apparent heart attack said to be unrelated to the bug. Another was airlifted to hospital after developing a medical condition unrelated to the suspected outbreak.
Both local villagers and politicians have questioned the tour operators decision to allow passengers on to the mainland.
The norovirus is also called the "winter vomiting disease" because people usually get it during the winter months, but it can occur at any time of the year. It spreads very easily from person to person and can survive for several days in a contaminated area.