Trump's director learning Gaelic from Scots singer
George Sorial (pictured) is learning the language through Gaelic singer Fiona J. Mackenzie's Twitter page.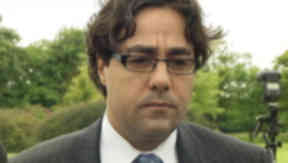 Donald Trump's right hand man is learning Gaelic from a celebrated Scots singer through her Twitter page.
George Sorial, Managing Director of The Trump Organisation, has joined the army of people interested in the traditional Scottish language through the daily 'Tweets' from Gaelic singer Fiona J. Mackenzie. 
Fiona has been posting several short lessons on her site (under the twitter name Gaelicsinger) every day that are read and learnt by over 700 people from all over the world.
Mr Sorial said: "Gaelicsinger's daily Gaelic Tweets take me back to my childhood summers spent at my Grannie's home on the Hebridean island of Lewis where I heard Gaelic every day.
"I don't get to hear it very often in NYC so the Tweets are an ideal, quick way for me to keep in touch with the culture of my youth and it's great to hear the accent – and the music - on the actual podcasts on her website."
Fiona is delighted to have attracted the interest of such a high-profile figure.
She said: "To have George Sorial following the Tweets from the Trump Tower in Manhattan is just fantastic. Perhaps he'll encourage Donald Trump himself to follow his Hebridean roots and join Twitter too.
"I have been absolutely astounded at how popular these Tweets are. It just goes to show that people are interested in the language itself, not just the music.
"One Tweeter e mailed me to say, 'I think its absolutely brilliant. Learnt more in 3 Tweets than I have from night classes over the years'.
"The beauty of Twitter is that the lessons have to be short with only 140 characters to use, its not frightening for learners."
Fiona's Twitter podcasts can be downloaded from her website.