Wind farm firm rapped over misleading advertising
Viking Energy plans to build 150 turbines on Shetland but their plans have been met with strong local opposition.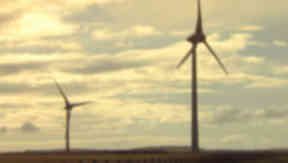 Wind farm developers who want to build Europe's biggest onshore project on Shetland have been told to scrap misleading advertising.
The Advertising Standards Agency has upheld four complaints against Viking Energy.
Viking plans to build 150 turbines on Shetland but their plans have been met with strong local opposition.
Following complaints from anti-Viking campaign group Sustainable Shetland, as well as four individual group members, the Advertising Standards Authority (ASA) ruled that a leaflet released about the scheme was in breach of the authority's code in four cases.
The company has "apologised unreservedly" and been told not to claim that 50% of the projected income from the planned 540MW wind farm would stay in Shetland.
It has also been told it can no longer claim that the scheme would see £30million injected into the Shetland economy every year or that upwards of £18million in profits would go to the Shetland Charitable Trust.
Sustainable Shetland's vice chairman Kevin Learmonth said the ruling had vindicated the group's view that many of the claims made about the wind farm were unsubstantiated.
He added: "The trouble is that the leaflet went out to all households back in May, so the assumption in the community since then has been that the information Viking Energy has put out is accurate, substantiated and truthful. The ASA has said it isn't."
Viking Energy's project officer David Thomson yesterday said there had been no intention to misinform the public and he apologised unreservedly for the mistakes made.
Conversely an anti-wind farm group in Moray has been told it must change its campaign leaflet.
Save Our Scenic Moray had claimed that plans for a development near Dufftown would have a detrimental effect on both the Glenfiddich and Glenlivet whisky brands, along with a pollution threat to rivers and some wildlife.
The leaflet was reported to the Advertising Standards Authority (ASA) by Pendragon Consultants, acting on behalf of renewable energy company Infinergy.
It challenged whether SoSM could substantiate its claims that the wind farm was a threat to rare golden eagles, the purity of local rivers and near by whisky distilleries.
It also asked if the campaign group could produce evidence that a wind farm would deter visitors from returning to the area and local hotels and guest houses would suffer "a cash loss".
SoSM told the ASA that it did not believe the circular fell under the Committee of Advertising Practice (CAP) code.
The ASA noted its concern but said: "We considered that the circular sought to influence reader's views on the proposed development and encouraged them to lodge objections with the council planning department."
The ASA told the group the circular must not appear again in its current form and it must ensure it held "robust evidence" to support future claims.